Features

Styler extension
Interactive look customizer
The Styler extension will allow you to customize the WebTV appearance, in an interactive/visual way, without programming knowledge: just point and click!.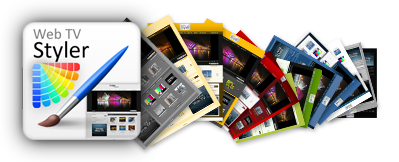 With Styler you will be able to:
• Create as many styles as you want*.
• Use your own background image.
• Modify more than 50 adjustments: colors, borders, backgrounds, transparencies, etc.
• Styler comes with more than 20 presets that will be usefull as a starting point for creating your own styles.
Styler video demonstration:

(Play the Clip to see it "in action")
Styler tutorial:
View tutorial
NOTES:
• Although there is no limit regarding the number of styles you can create, only one of them can be active at a time (the one showed on the WebTV).
• Styler does not support Internet Explorer 6.
•Some adjustments, like border roudness, will only be effective on Web browsers with CSS3 support, like Internet Explorer 9, as well as the latest versions of Chrome/Safari, Firefox and Opera.
Simple Web TV extensions